We know that your engagement rings are very precious to you, might be it is not so expensive, but the sentimental value they carry are priceless and cannot be substituted with any other expensive piece of jewelry. Therefore repairing your engagement ring might be a daunting task for you. But there is a solution to every problem. The
Diamond Ring Wrap
is a brilliant way to enhance your engagement ring.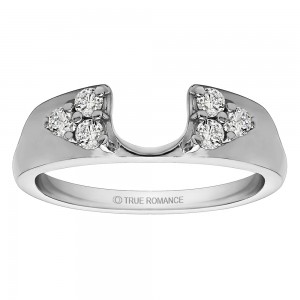 Diamond Ring Wraps
Diamond Ring Wrap or ring insert can upgrade your engagement ring in an alluring way. In fact, it is an impeccable way to bespeak or celebrate the special moment of your life. This piece of jewelry is known for its versatility, it can be used as a wedding band or anniversary band that can completely revolutionize your style. There is an exclusive range of diamond ring wraps are available in the market, but before buying or choosing a wrap you should be aware of different wrap designs and style.
3 Basic Styles Of Diamond Ring Wraps:
Single Shank Wraps
According to the renowned jewelry designers "single shank wrap style wrap, one side of the ring or they may have extensions that spread to either side of the center stone and add symmetrical accents." this type of wrap style is perfect for solitaries and accented rings.
Circumference Wraps
This style of wrap fully circumscribes the central diamond and perfect to go with diamond solitaire rings.
Dual Shank Wraps
This wrap style adds bands on any side of the ring that encloses the entire design of the original ring. This style of wrap is perfect for engagement rings.
How To Buy Wraps
Although Ring wraps are less expensive as compared to independent
diamond ring wraps and enhancers
, still you need to look upon a few things that can influence the price of your ring wraps. Some of the known factors are total carat weight of stones, type of setting, metal, and quality.
Where To Buy
Many renowned jewelers like True Romance offer an of an exclusive range of Ring wraps that are perfectly designed to combine well with their collection of engagement rings and wedding bands. It's classic and exceptional collection of
diamond wedding ring wrap
reflects the true essence of American designs. Visit True Romance Bridal or call at 1800-232-2728.
Save