Ring wrap is the unique way to accentuate your simple wedding ring. This wrap will enhance the beauty of the ring without making it ostentatious. Simply put, Ring Wraps are meant to be worn with solitaire rings to protect them on one or both sides while also augmenting their appeal. It is a specially-designed ring wrapped around the solitaire ring.
[caption id="attachment_71" align="aligncenter" width="189"]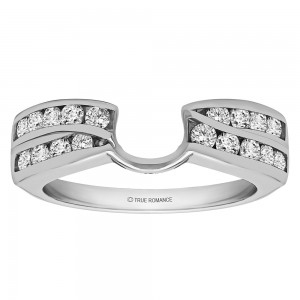 Ring Wrap[/caption]
Thus, picking up the best Ring Wrap can be a little daunting task. So, to make your search easier, we have compiled Few Considerations for Selecting Perfect Wedding Ring Wraps that can suit your needs.
Shape Matching
It is essential for you to consider Shape Matching factor while selecting traditional style ring wrap. So, if you are specifically looking for traditional design wedding ring, then it is important for you to match the shapes between Solitaire and ring wrap.
Proportions
If you want to own three stone ring look by adding a ring wrap, in that case, it is important for you to match the proportion of your stone and ring wrap you have selected. For this, you need to know the size of the center stone because the opening of the wrap will be adjusted accordingly. For instance - If your ring has 2 carat center stone and you want three stone ring look, then, in this case, a yellow gold ring wrap guard with two works best. According to the renowned jewelry experts "the best way to achieve appropriate proportion is to create a total carat weight no greater than 175-200 percent of the center stone."
Metal Types
Although it is not important to match metals, if you select similar metal types for your diamond wedding ring wrap, then getting it repair can be an easy task for you. But if you want to get a two stone look ring, then selecting contrasting metals is the perfect decision.
Soldering
Soldering is another important consideration while selecting your wedding Ring Warp. As you are going to wear your wedding ring wrap with your engagement ring every day, so, it is better to solder it in order to keep the two rings together.
Therefore, Ring Wrap is one of the best options to add delicacy and charm to an engagement ring without losing its sentimental values. So, while selecting the most appropriate Ring Wrap, keep the above considerations in mind.
To explore more about Ring Wraps, visit - True Romance.