Ring Enhancers is the perfect jewelry piece that enhances the appeal of a solitaire ring. They are specifically designed by sporting more stones and supporting the ring on each side to festoon your solitaire ring. So, if you are planning to buy a ring enhancer for your engagement ring, then read this blog and take care of the following things when buying a ring enhancer.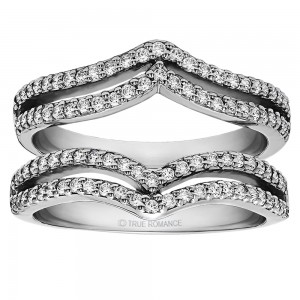 How To: Selecting an Enhancer for an Engagement Ring
If your solitaire is looking a little lonely, consider adding an engagement ring enhancer.
Maybe you now find yourself in a position to afford a more substantial ring than you could back when you were a young couple. Maybe your taste has changed over the years, and your simple solitaire feels kind of boring these days. Whatever the reason, you can rest assured there are plenty of ways to update your engagement ring and fall in love with it all over again.
Solitaire engagement ring enhancers are designed to work with your existing ring seamlessly. Together, they'll end up looking like one single, fabulous ring.
Gemstones
Most people opt for additional diamonds to complement their current solitaire. Typically, you'll be looking at bands with smaller diamonds but more of them. Of course, the total carat weight will determine how much you spend, and it's never a bad idea to set a budget prior to jewelry shopping. You don't have to limit yourself to diamonds either. A combination of both diamonds and colored gemstones will draw even more attention to your enhanced band. By the same token, colored diamonds work well as accessories to a solitaire.
Metal
The prevailing opinion seems to be that your enhancer should be the same color metal as your engagement band to produce a coordinated and cohesive effect; however, this isn't mandatory. After all, you're the one who will wear it and has to love it. Many women do opt for a mix of yellow and white golds, and the look can be quite striking. Pairing gold and silver, however, doesn't usually work so well, especially since silver requires more frequent cleaning.
Read full post here: http://www.jewelrywise.com/engagement-wedding/article/how-to-selecting-an-enhancer-for-an-engagement-ring
So, if you are looking for a unique & attractive Ring Enhancer for an Engagement Ring, then we, at True Romance have a wide range of Ring Enhancer. Give us a call at 1800-232-2728.