One of the latest styles in rings over the last few years has been centered around vintage engagement rings. For couples looking for rings that are beautiful and makes a distinct statement, a vintage engagement ring is perfect. It is more common for women to use their family heirloom rings, passed down for generations, in place of an ordinary engagement ring to show respect for their family and their past.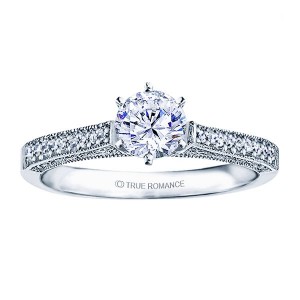 Victorian Engagement Rings
Some of the vintage rings are from the Victorian Era. They are distinguished for their use of diamonds. The rings were set in yellow or rose gold.  The piece of jewelry from this time period are delicate and feature intricate scroll-work and curved designs.
Art Nouveau Engagement Rings
The art nouveau period was famous for its use of curves and nature inspired elements like birds and flowers.  Engagements rings were the first to use platinum settings. The vintage rings are ideal for a bride to likes intricate designs.
Edwardian Engagement Rings
The Edwardian period brought about the popularity of gemstones like sapphires and rubies set in intricate scroll work settings. An Edwardian period engagement ring can be made of white gold or platinum.  Diamonds were the stone choice for
engagement rings
during this period, making them one of the popular choice for vintage engagement ring shoppers.
Art Deco Engagement Rings
Art deco engagement rings have been in demand for people looking for vintage piece because of their unique designs. Their unusual curves made them stand out from the other eras. This piece of jewelry was one of the first to break away from flowing designs and incorporate geometric inspired designs. Vintage rings are elegant and unique.  After the information given above, if you are still interested in knowing more about
Vintage style engagement rings
, pay a visit our website or call 1800-232-2728.