Wedding Ring offers a chance to upgrade your existing Engagement Ring in the most exciting way. Wedding Ring Guards is the way to revamp your engagement ring in a classic way that too without hurting its sentimental values. Furthermore, it is the budget-friendly choice that can redesign your ring without shelling out serious cash from your pocket.
Wedding Ring Guards
A wedding ring guard is an additional jewelry accessory that is specifically designed to renovate the existing style and design of an engagement ring without undergoing any repairing task. Secondly, ring guards work as the protective guard for a ring that protects both sides of the engagement ring. These sorts of bands are available in the customized options as well. If you have decided to buy wedding ring guards for your would-be bride, then you must be surfing various styles of guards? So, today's blog is completely for you. Here, we have compiled the few popular gorgeous & stylish Ring Guards that can almost take away the breath of your lady. It is true that Ring Guards are primarily designed for protection & enhancement purpose, but when it is set with the fine line of diamonds, the level of sparkle we get is just beyond extraordinary beauty. Considering the below 2 major pretty styles that can leave you with the gorgeous options to upgrade your ring:
Diamond Solitaire Ring Guard with Diamond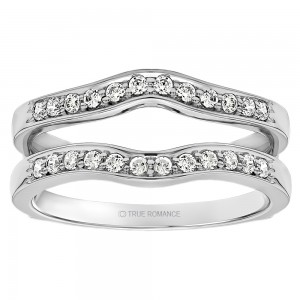 This ethereal Solitaire Ring Guard from True Romance is created with the 14K White Gold that is embellished with the fine line of small diamonds. These round and brilliant-cut diamonds of weight 0.14 ctw are graded at SI clarity scale. This gorgeous ring guard is available in Platinum and 18K & 14K White, Yellow & Rose Gold. This type of ring guard is easy to clean & maintain.
Solitaire Ring Guard with Colored Stones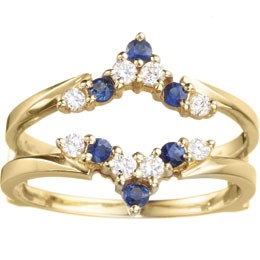 If your engagement ring comprises colored stones, then worry not, colored stones ring guards are easily available on the market. Many renowned jewelry brands like True Romance offers an extensive array of exquisite colored stone ring guards. Solitaire Ring Guard With Colored Stones is crafted with the 14K Yellow Gold and accentuated with 0.5 ctw colored stones. The feature of this ring wrap is that the stones are placed in guard so perfectly that it adds value to the overall style of the ring.
Where to Buy Perfect Ring Guard
Jewelry world is flooded with many jewelers, who can provide you with the wide range of ring guards. But, to achieve the perfect guard, you need to focus on the certification of the diamonds/stones and metal. Always prefer to buy diamonds or colored stones ring guard that are ethically sourced from the independent gemological lab. True Romance ensure you with the premium-quality Ring Guard.